Project:
Biodiversity In Oniscidea Populations at Ethical Culture Fieldston School
Students:

Rowhan Daly, Lucas Buelow-Meléndez, Ike Chukwulozie

School:

Ethical Culture Fieldston School, The Bronx

Mentors:

Anne Kloimwieder
Abstract:
Around thirty samples of woodlice, suborder Oniscidea, will be collected from different locations at Ethical Culture Fieldston School to determine the biodiversity of woodlice on the Fieldston campus. The DNA of the samples will be isolated and sequenced, and the exact species determined. Biodiversity at each location will be determined using the Shannon-Wiener Index. We hypothesize that areas having higher concentrations of road salt will have less biodiversity, because woodlice of the same colony tend to aggregate in areas with less moisture, such as areas with high salt concentrations. Additionally, the most effective DNA extraction protocol, chelex or silica, will be determined.
Poster: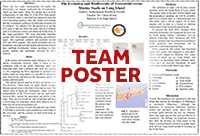 View team poster (PDF/PowerPoint)
Team samples: