Project:
Biodiversity of Millipedes at Ethical Culture Fieldston School
Students:

Sydney Pessin, Wyatt Rexer, Annalise Schuster, Angie Wong

School:

Ethical Culture Fieldston School, The Bronx

Mentors:

Anne Kloimwieder
Abstract:
Millipedes will be collected from both near the parking lot and from under a log at Ethical Culture Fieldston School to determine the relationship between human activity and species diversity. About 30 millipede samples will be collected and their DNA will be extracted and sequenced in order to determine their species identification. In addition to analyzing human impact on millipede species diversity, we also aim to find the most effective method of DNA extraction, through comparatively using both the silica and chelex methods.
Poster: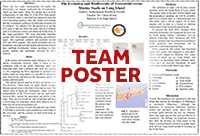 View team poster (PDF/PowerPoint)
Team samples: