Project:
Biodiversity of Centipedes on the Fieldston Campus
Students:

Nathaniel Russo, Maya Scotkin

School:

Ethical Culture Fieldston School, The Bronx

Mentors:

Howard Waldman
Abstract:
The goal of this experiment is to measure the relative biodiversity of centipede species collected from various locations around the Ethical Culture Fieldston School Bronx campus. The DNA of at most 30 samples will be collected, sequenced, and analyzed to determine species biodiversity. The DNA will be extracted using two contrasting methods, the silica resin method and the Chelex method, and the precision and accuracy of both will be analyzed. We will also discover if any nonnative or invasive species are inhabiting a human-made environment.
Poster: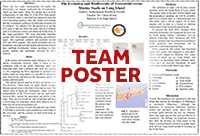 View team poster (PDF/PowerPoint)
Team samples: