Project:
Management of an Invasive Species, Corydalis incisa, Along the Bronx River
Students:

Sammy Baez, Rosa Bermejo, Josiah Estacio, Sydia Fraguada

School:

Hostos-Lincoln Academy, The Bronx

Mentors:

Allison Granberry
Abstract:
This project will examine the distribution of Corydalis Incisa in unmanaged areas along the Bronx River using DNA barcode. In 2014-2015 a study of C. incisa was conducted on managed land in the New York Botanical Garden using DNA barcode and a seed collection. The results of this survey found 38 different species of which none were identified as C. incisa. The data collected from this proposal will be compared to the results of the survey conducted in 2014-2015.
Poster: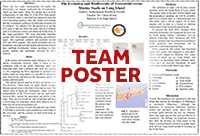 View team poster (PDF/PowerPoint)
Team samples: