Project:
Barcoding Roots to Identify Biodiversity at the Margin of a Small Urban Forest
Students:

Nathalee Almonte, Jesus Bailon, Julia Martino

School:

Hostos-Lincoln Academy, The Bronx

Mentors:

Allison Granberry
Abstract:
The biodiversity of a small urban forest will be identified using soil samples and DNA barcode. The analysis will be conducted by separating the roots from each sample and its species will be identified. The results will be compared to a morphological data bank of the Thain Family Forest.
Poster: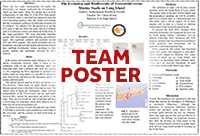 View team poster (PDF/PowerPoint)
Team samples: