Project:
Sister Squid: Discovering a Squid's Family
Students:

Tommasina Cardone, Julia Nelson, Giuseppa Bruno, Margaret Minogue

School:

Fontbonne Hall Academy, Brooklyn

Mentors:

Michal Ashkenazy
Abstract:
In 2003, DNA barcoding became recognized as a new, impactful discovery in scientific communities. DNA barcoding allows for the genetic makeup of a species to be uploaded into a cataloging application which can be searched when that species is needed. There are almost nine million species of organisms on the planet, meaning that barcoding every one of them will not take a short time. The benefits of having the DNA makeup of every species on file are tremendous. Food labeling, tracking invasive species, tracking endangered species, curing disease, and finding natural energy sources are only a few from an extensive list of more. Sequencing the DNA of the ​illex illecebrosus​ would help to accomplish the task of barcoding every species, and allowing us to become closer to the desired end result.
Poster: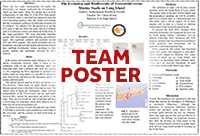 View team poster (PDF/PowerPoint)
Team samples: