Project:
Ferns as an Indicator Species of Soil pH, Moisture, and Nitrogen Levels in Northern New Jersey
Students:

Julia Smolyak, Madeline Davis

School:

Tenafly High School, Other

Mentors:

Anna Rubenchik
Abstract:
The objective of this Urban Barcoding Project is to identify specific species of vascular plants that can serve as indicators of nitrogen, pH, and moisture levels in soil, while helping Tenafly Nature Center better describe its biodiversity. Samples of soil and ferns from various areas will be collected and tested for the species, and levels of nitrogen, pH, and moisture. We seek to determine specific species that thrive in these various environments.
Poster: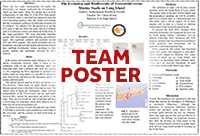 View team poster (PDF/PowerPoint)
Team samples: