Project:
Assesing the Filtration Efficacy of Aquatic Plants on Hackensack river freshwater
Students:

Jonathan Tenenbaum, Will Chi

School:

tenafly HS, Other

Mentors:

anat firnberg
Abstract:
Recent studies have explored the possibility of using duckweed to combat detrimental alterations in American aquatic ecosystems caused by overuse of chemical fertilizations and industrial contamination. Toxic elements and heavy metals have been proven time and time again to pose major risk to aquatic ecosystem and human health. Restoration of water contaminated with potentially toxic metals is in dire need of concentration reduction to a protective level in order to prevent eutrophication and extreme health damage to aquatic organisms and humans alike. We plan to collect samples of aquatic plants and identify their species through a DNA barcoding protocol and bioinformatics analysis.
Poster: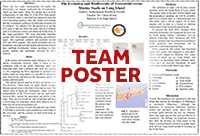 View team poster (PDF/PowerPoint)
Team samples: