Project:
Which Grass Species Thrive Near The Shores of Lake Meadow, NYC?
Students:

Jorden Tethong, lenard grayver, Grant Zebi

School:

Forest Hills High School, Queens

Mentors:

Lauren Scanlon
Abstract:
Our main goal in this experiment is to see how native grass species are able to survive in the presence of an invasive plant species known as Phragmites australis and/or the weather conditions of Meadow Lake. We plan on collecting samples of grass (blades) on opposite sides of the lake and then preserving them through freezing. Then we will use the DNA barcoding kit to extract DNA molecules from the samples and analyze them through the use of gel electrophoresis. The results of our project being the DNA located in the wells will be shared with the DNA Learning Center and the Department of Environmental Conservation.
Poster: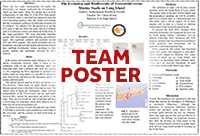 View team poster (PDF/PowerPoint)
Team samples: