Project:
Biodiversity of Plant Life in Flushing Meadow Park
Students:

Rita Li, Hannah Tamayo, sophia rimsky

School:

Forest Hills High School, Queens

Mentors:

Lauren Scanlon
Abstract:
New York City has a variety of different parks in the area. These parks have a variety of different environments and biodiversity. A loss of biodiversity could be detrimental to the environment. The purpose of our project is to find the diversity of plants particularly flowers in Flushing Meadows Park in Queens. Wildflower meadows are majorly made up of However not much is known about the biodiversity of flowers in Flushing Meadows Park. In order to determine how many different types of flowers are located in the area and how they are affected by changes in the environment we will use DNA barcoding in order to differentiate and organize the species.
Poster: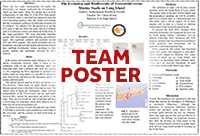 View team poster (PDF/PowerPoint)
Team samples: