Project:
Diversity and Abundance of Ant Species in Van Cortlandt Park
Students:

Onnie Woods, Zoe Ravera, Daniel Silverstein

School:

Ethical Culture Fieldston School, The Bronx

Mentors:

Howard Waldman
Abstract:
We want to collect samples of ants in Van Cortlandt Park from numerous locations and determine their species through DNA analysis in order to collect and analyze data on the biodiversity of ants in the park. We aim to find at least one previously undiscovered invasive species in the park which may help verify the potential damage this species may have to ecosystems of Van Cortlandt Park. Through this project, our goal is to learn about the ant populations in the park and provide more data to the Friends of Van Cortlandt that may be helpful to them in the maintenance of the park grounds.
Poster: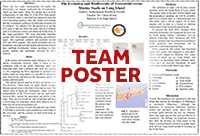 View team poster (PDF/PowerPoint)
Team samples: