Project:
Does Water Quality Affect the Biodiversity of Aquatic Isopods?
Students:

Owen Park, Spencer Sussman, Josh Sacca

School:

Ethical Culture Fieldston School, The Bronx

Mentors:

Howard Waldman
Abstract:
In this experiment, we will identify different species of Aquatic Isopods in Van Cortlandt Park. We will collect the Isopods from Van Cortlandt Lake and Tibbetts Brook using a net and then extract, amplify and analyze their DNA using the Silica DNA extraction method, Polymerase Chain Reaction (PCR) and gel electrophoresis. We will also correlate the biodiversity of Aquatic Isopods to water quality by collecting water samples and testing them using a water quality testing kit.
Poster: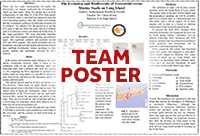 View team poster (PDF/PowerPoint)
Team samples: