Project:
Invasive Plants Vs. Native Plants: The Battle For Survival
Students:

Miriam Biderman, Eliana Ellerton, Leah Goykadosh

School:

Yeshiva University High School for Girls, Queens

Mentors:

Shulamith Biderman
Abstract:
Through our project, we plan on collecting leaves from plant species that have both invasive and native counterparts in New York City. We also plan to find out if the rbcL DNA barcode region can distinguish between the invasive and non invasive plants and is therefore potentially diagnostic for the plant's invasive status.
Poster: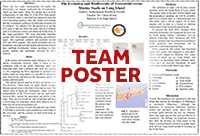 View team poster (PDF/PowerPoint)
Team samples: