Project:
Winter Jackets Fur and Feathers
Students:

Catherine Rivas, Rafanny Reyes, Junice Caminero

School:

Frank McCourt High School, Manhattan

Mentors:

Vincent Joralemon
Abstract:
We're proposing to analyze the fur and feathers found in winter jackets commonly worn around NYC. We'll measure to see if Jackets using real fur are in fact using the fur and feathers they advertise as using. DNA data will be combined with microscopy.
Poster: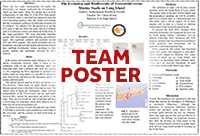 View team poster (PDF/PowerPoint)
Team samples: