Project:
Application of Epigenetics to Identify Plant Organs in Herbal Supplements
Students:

Lorianny Rodriguez, Heily Rosa

School:

Hostos-Lincoln Academy, The Bronx

Mentors:

Allison Granberry
Abstract:
The purpose of this research is to design and test a protocol that can easily identify the presence of roots and shoots in herbal supplements. Although herbal products in the United States are regulated by the FDA, testing standards are reduced in comparison to prescription or over-the-counter medication. DNA analysis could provide an efficient, valid, and reliable method for the FDA and manufacturers to identify the different components of an herbal supplement and/or the plant organ. Comparing methylated patterns within a DNA region can be used to determine which structure of the plant is being examined. An ammonium bisulfite protocol will be used along with PCR and sequencing to assay methylated sites.
Poster: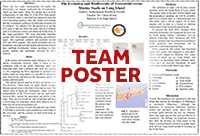 View team poster (PDF/PowerPoint)
Team samples: