Project:
Barcoding the Big Four
Students:

Alanna McGovern, Gina Verrengia, Alessandra Antonacci

School:

Fontbonne Hall Academy, Brooklyn

Mentors:

Michal Ashkenazy
Abstract:
Lonicera Nitida, Lonicera Fragrantissima, Dipsacus Fullonum, and Salix Smithiana are unbarcoded species. Barcoding the species can lead to important scientific discoveries by learning new properties about the species and comparing them to each other as well as other species. Barcoding will allow scientists to identify each species as well as make comparisons among the species. With the barcode of each species, scientists will have a record of the phylogenetic information associated with them.
Poster: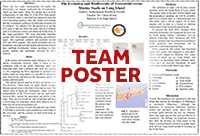 View team poster (PDF/PowerPoint)
Team samples: