Project:
Discovering Who is Hugging the Tree
Students:

Faye Fudjinski, Lauren Dean, Claudia Cain

School:

Fontbonne Hall Academy, Brooklyn

Mentors:

Michal Ashkenazy
Abstract:
In this project, our main focus will be discover the phylogeny of five species of the Malvaceae family. We will be barcoding and sequencing these five species, which have never been barcoded before. We selected these species because they share the same medicinal properties. We thought it would be interesting to map out their phylogeny in order to discover other species that may be part of their phylogeny and also share the same medicinal properties.
Poster: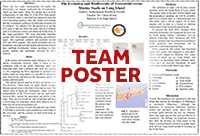 View team poster (PDF/PowerPoint)
Team samples: