Project:
The effect of vehicular pollutants on the biodiversity of Lichen
Students:

Harrison Phillips, Ethan Coriell

School:

Tenafly HS, Other

Mentors:

anat firnberg
Abstract:
Certain species of lichen are fairly sensitive to pollutants in the air emitted by cars. This makes these species of lichen bioindicators for these pollutants.The goal of this experiment is to see if the biodiversity of lichens is related to the amount of pollution in the location where they grow. We chose two sites with marked difference in levels of vehicular emissions, a Nature center with minimal car traffic and a heavily trafficked county road. Samples of lichen collected in these two different locations will be identified by DNA barcoding and bioinformatics anlysis.
Poster: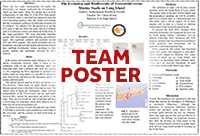 View team poster (PDF/PowerPoint)
Team samples: