Project:
A study of the biodiversity of aquatic plants and the water quality of the Tenakill brook in Bergen county NJ
Students:

Rebecca Beaver, Erik Lee, Hannah Joung

School:

Tenafly HS, Other

Mentors:

anat firnberg
Abstract:
The effect of aquatic plant species biodiversity on water quality is a highly debated issue within the environmental science community. In Bergen County, bodies of water contain many plant species such as acorus calamus and pistia stratiotes. In this research project, we plan to collect several plant samples and water samples from different sections of the Tenakill Brook. As we investigate the biodiversity of aquatic plant species and their effect on water quality, we will see the potential repercussions and applications for Bergen County citizens, and even New Yorkers.
Poster: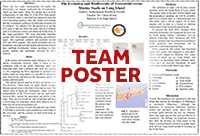 View team poster (PDF/PowerPoint)
Team samples: