Project:
The Effect of Harmful Algae Treatment on Biodiversity in Northern NJ lakes
Students:

Andrew Volynsky, Jacob Wolmer, Zoe Zachko

School:

Tenafly High School, Other

Mentors:

Anna Rubenchik
Abstract:
The objective of this study is to determine the effect of chemical treatments of algal blooms on biodiversity and nitrate and phosphate levels in bodies of water in New Jersey. Different algal species are capable of surviving in different environmental conditions and in the treatment process the lakes that are found to have blooms undergo radical change in the conditions of the existing water. We will collect samples of water from four lakes and test for the levels of phosphates, nitrates, dissolved oxygen, and alkalinity. And analyze which algae species are present.
Poster: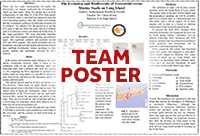 View team poster (PDF/PowerPoint)
Team samples: