Project:
Phylogenetic Reconstruction of Species Around Strack Pond, Forest Park Using DNA Barcoding
Students:

Nicole Weese, Brigette Belenky, Selma Velovic

School:

Forest Hills High School, Queens

Mentors:

Lauren Scanlon
Abstract:
This project uses DNA barcoding for phylogenetic reconstruction. DNA barcoding is used in countless ways including identifying certain organisms and species. Phylogeny uses DNA barcoding to produce a common relationship tree between species. The goal of phylogenetic reconstruction is to describe relationships between organisms in terms of relative recency of common ancestors. The intent this experiment is to analyze species around Strack Pond in Forest Park to gain a better understanding of their relationships and what commonalities they share. Another purpose of this experiment is to determine a sequence in the DNA of these barcoded species that can help the environment or even humans.
Poster: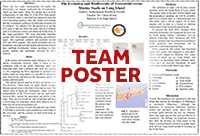 View team poster (PDF/PowerPoint)
Team samples: