Project:
Plant Diversity of the Flushing Meadow Park
Students:

Jonthan Tan, Yi Xiao, Winny Wu

School:

Forest Hills High School, Queens

Mentors:

Lauren Scanlon
Abstract:
Biodiversity relate to people's daily life. It prevents extreme weather, give people a comfortable environment to live in. The invasive species usually damage the environment and the local biodiversity, compete with local species. This experiment is focusing on the plant diversity in Flushing Meadows Park. In this experiment, the plant samples will be taken from different parts of the Flushing Meadows Park, and randomly select plant species for sample taking. DNA will be extracted from the samples and use the DNA sequences to find the plant species in BLAST and DNA Subway. The data will be the results of this experiment.
Poster: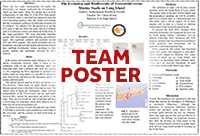 View team poster (PDF/PowerPoint)
Team samples: