Project:
The Relationship Between Soil pH and Fungal Biodiversity on the Leatherstocking Trail
Students:

Jake Egelberg, Brittney Benjamin, Lusangelis Ramos, Rachel Rivera

School:

New Rochelle High School, Other

Mentors:

Alan Gardner
Abstract:
Environmental factors influence the range of species that can survive within an ecosystem. Among these factors, soil pH is critical in determining the flora, fauna, and fungi that comprise a community. To explore on aspect of local biodiversity, fungi along the Leatherstocking Trial in New Rochelle (NY) will be surveyed and correlated to soil pH.
Poster: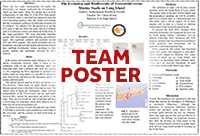 View team poster (PDF/PowerPoint)
Team samples: