Project:
All in on Strawberries: DNA, Taste and Varieties
Students:

Ryan Eagan, Oscar Gad, Sharif Nsouli, Carlton Stephenson

School:

The Browning School, Manhattan

Mentors:

Emilie Dion Wolf
Abstract:
In this Urban Barcoding Project, we seek to observe the similarities and differences between the genetic code of wild strawberries and commercial strawberries. We hypothesize that the genetic material of the commercial strawberry varieties will differ from the genetic material of the wild strawberry varieties. We have formed this assumption because the commercial strawberries' genetic information has been altered to increase the chromosome quantity and sugar concentration to improve taste for commercial purposes. We think it would be beneficial to focus on the difference of genetic makeup of the strawberries because it would affect the taste, look, and size which is important for marketing purposes.
Poster: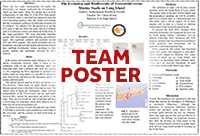 View team poster (PDF/PowerPoint)
Team samples: