Project:
Central Park Phenology Trail
Students:

Logan Flynn, Taran Pandya, Liam Lis, Austin Stapleton

School:

The Browning School, Manhattan

Mentors:

Emilie Dion Wolf
Abstract:
The objective of this project is to confirm the presence of the heat island effect in Central Park and expand our phenophase study by adding replicas of the species previously targeted in the Browning School Phenology trail. This project hypothesizes that, should multiple individuals of the same plant be analyzed by physical monitoring and testing temperature, the phenophases expressed in each individual will be different from the others. The participants of the project will use DNA barcoding to confirm the identity of the target plant species on the trail, as many of the DNA barcodes in the previous study were unsuccessful.
Poster: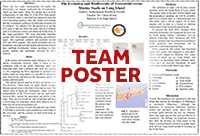 View team poster (PDF/PowerPoint)
Team samples: