Project:
Moss variation in Central Park and Black Rock Forest
Students:

Oliver Messler, Edgar Saavedra, Fernando Cohate

School:

The Browning School, Manhattan

Mentors:

Emilie Dion Wolf
Abstract:
In this project, we are going to identify different moss species in Central Park and Black Rock Forest using DNA Barcoding, testing to see if the environment affects the moss' diversity. The group will be exploring three different areas in each location. We hypothesize that Black Rock Forest will have a higher moss diversity than Central Park. The assumption made by our group comes from the strong belief that urbanization in New York City has a dramatic effect on the environment. Moss is a bioindicator of air pollution, climate change, forest integrity, and water content.
Poster: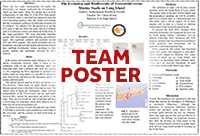 View team poster (PDF/PowerPoint)
Team samples: