Project:
The Effects of the Antibacterial Action of Spices on the Biodiversity of Microorganisms in Soil
Students:

Eliza gonzalez, Christy Dambleu, joenardie gaston

School:

High School for Health Professions and Human Services, Manhattan

Mentors:

Rocheli Apilan
Abstract:
Microorganisms found in dirt have yielded antibiotics that can kill pathogens resistant to multiple drugs. One gram of soil contains at least 1,000 bacterial species. This study attempts to determine the microorganisms that will be eliminated or killed after treating the soil sample with garlic, ginger, oregano and cinnamon extracts.
Poster: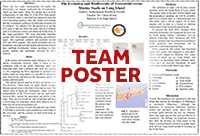 View team poster (PDF/PowerPoint)
Team samples: