Project:
Rosemarinus officinalis and Ferula Asafoetida
Students:

Krista Curcio, Kaylie Walsh, Genevieve Nolan

School:

Fontbonne Hall, Brooklyn

Mentors:

Michal Ashkenazy
Abstract:
Rosmarinus officinalis and Ferula assafoetida are two plant species that have yet to be barcoded. By barcoding these plant species we set out to better understand their DNA as well as draw connections between the two. We hypothesize that because these two plant species vary in families, it will be unlikely that there will be similar DNA shared between the two.
Poster: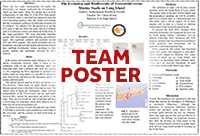 View team poster (PDF/PowerPoint)
Team samples: