Project:
Plants and Succulents: Unbarcoded species
Students:

Julia Piccard, Olivia Vella, Tatiana Paucar, Maria Victoria Lazo

School:

Fontbonne Hall, Brooklyn

Mentors:

Michal Ashkenazy
Abstract:
For our research, we will be barcoding two plants in the Curio Genus, along with the Wild Pansy. It is important for organisms such as these to be barcoded as taxonomy does not highlight the subtle differences within the genus. DNA barcoding is the method of identifying a species through a short section of DNA; we will identify these short sections by processing them through a computer program - DNA Subway. After collecting and analyzing the sequence data from the three different plants, we could identify the species and find the relationship between the two plants in the Curio genus through Bioinformatics.
Poster: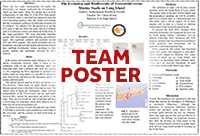 View team poster (PDF/PowerPoint)
Team samples: