Project:
New Jersey Trees and invasive species
Students:

Hannah Joung, Rebecca Beaver

School:

Tenafly HS, Other

Mentors:

anat firnberg
Abstract:
The primary objective of this research project is to calculate the biodiversity of Bergen County's forest ecosystems, and determine whether there is a correlation between the biodiversity score of each location and the number of invasive species. The plan is to collect 10 tree leaf samples from 5 different places in Bergen County: the Tenafly Nature Center, the Tenafly Rose Garden, Teaneck Votee Park, Englewood Mackay Park, and the Demarest Nature Center. After collection is completed, the plant samples will be preserved and refrigerated, and we will establish our biodiversity index based upon the number of species that we have per number of samples from the location, and try to find a correlation between the number of invasive species and the healthiness of the ecosystems.
Poster: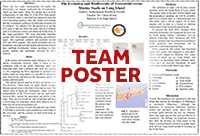 View team poster (PDF/PowerPoint)
Team samples: