Project:
Mushrooms as an Indicator of Soil pH, Phosphorus, and Nitrogen Content in Northern New Jersey
Students:

Abigail Kushman, Alexandra Yanowitz

School:

Tenafly High School, Other

Mentors:

Anna Rubenchik
Abstract:
The objective of this Urban Barcoding Project is to identify specific species of fungi, specifically mushrooms growing in soil on lawns, that can serve as an indicator of pH, phosphorus and nitrogen. We will collect samples of mushrooms and the surrounding soil to test for the species, soil pH, phosphorus and nitrogen. We hope to seek insight on mushroom biodiversity and their impact on an ecosystem based on these factors.
Poster: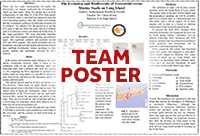 View team poster (PDF/PowerPoint)
Team samples: