Project:
Identifying Samples of the Killifish Fundulus (Lacepede, 1803) Across New York Harbor
Students:

Max Feldman, Mauricio Gonzalez

School:

Urban Assembly New York Harbor School, Manhattan

Mentors:

Mauricio Gonzalez
Abstract:
This study was motivated by intriguing results found in the mitochondrial non-coding control region in a prior completed project based on Killifish that were collected around the New York Harbor during the Summer of 2019. The intention is to take the mitochondrial barcoding COI region of these unidentified samples to identify them and help determine why there were mismatches in the original non-coding mitochondrial sequences. Morphological traits will also be observed to help identify the Fundulus (Lacépède, 1803) samples. This information will be used to create range maps, phylogenetic trees, and graphs to represent the data. This information can also be used to help understand how Fundulus migrate and move based on environmental changes.
Poster: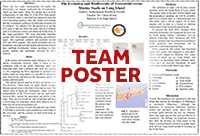 View team poster (PDF/PowerPoint)
Team samples: