Project:
Ant Biodiversity in New Jersey vs. The Bronx
Students:

Dream Champell-Aldrich, Caroline Ciagne, Francesca Grossberg

School:

Ethical Culture Fieldston School, The Bronx

Mentors:

Anne Kloimwieder
Abstract:
DNA samples of ants collected on the Fieldston campus in the Bronx and at a second location in Leonia, New Jersey will be sequenced to determine the differences in biodiversity of ants in the two locations. Twenty samples will be collected at Fieldston and ten will be collected in the second location, primarily under logs and rocks and in the dirt. DNA will be extracted using the Chelex method to determine the species of each ant sample, and diversity in the two locations will be compared using the Shannon-Weiner Index.
Poster: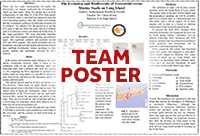 View team poster (PDF/PowerPoint)
Team samples: