Project:
Biodiversity of Millipedes at the Fieldston School
Students:

Gabriella Bommarito, Daniella Budoff, Zachary Gellert

School:

Ethical Culture Fieldston School, The Bronx

Mentors:

Howard Waldman
Abstract:
The goal of collecting DNA samples of millipedes in different areas of the Fieldston campus is to determine what different species live on the Fieldston campus, as well as how the species differ in the different areas. 30 samples of the millipedes will be collected and used to determine their DNA sequence by using two different extraction methods: the Chelex method and the Silica method. We will also be comparing the two DNA extraction methods to ascertain which is the better method. The product of the Chelex extraction method and the Silica extraction method will be put through PCR and then through gel electrophoresis to compare how much DNA was effectively recovered.
Poster: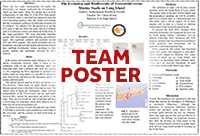 View team poster (PDF/PowerPoint)
Team samples: