Project:
Biodiversity of Perennial Plants in our Backyards
Students:

Natasha Miranda, Mcayla Law, Almudena Leon, Julia Macias

School:

High School for Health Professions and Human Services, Manhattan

Mentors:

Rocheli Apilan
Abstract:
Have you ever wondered how common perennial plants found in our backyards have the ability to survive winter? A perennial plant is a plant that typically lives for two or more growing seasons. They come in a vast variety of different types of plants including flowers, shrubs, trees, fruits, herbs, and vegetables. There are many shared characteristics of perennial plants including being able to grow anywhere, having a designated bloom season, and being easy to care for. In this experiment we will use DNA barcoding to identify perennial plants in our backyard. This experiment will help us see the perennial plant diversity in our neighborhoods; Queens, Bronx, and Brooklyn.
Poster: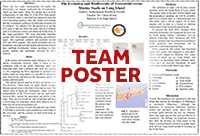 View team poster (PDF/PowerPoint)
Team samples: