Project:
Biodiversity of Slugs in Central Park
Students:

Calliope Speredakos, Ella Villacorta

School:

Marymount School of New York, Manhattan

Mentors:

Anne Kloimwieder
Abstract:
We will collect slugs to explore the biodiversity of Central Park. About 30 slug samples will be collected, and we will extract and sequence their DNA to determine their species identification. We plan on using the chelex method of DNA extraction, and through these experiments, we aim to discover the impact of human activity on slug species diversity. We hypothesize that slug diversity will be greater in areas that are moist and to the side of the footpath because the damp environment and lack of human activity will be suitable for slugs and increase their survival.
Poster: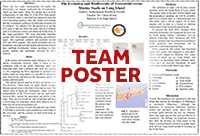 View team poster (PDF/PowerPoint)
Team samples: