Project:
Go Bananas for Kiwi and Papaya
Students:

Talia Hazan, Dara Khaimov, Ariana Badalov

School:

Yeshiva University High School for Girls, Queens

Mentors:

Shulamith Biderman
Abstract:
We will be barcoding the chloroplast DNA of golden kiwi, green kiwi, and papaya from local generic and Asian markets in the NY tri-state area. Due to similar seeds, allergic reactions, and the presence of digestive enzymes we hypothesize that there is an evolutionary link between these fruit. We will obtain the samples and DNA Barcode to test our hypothesis.
Poster: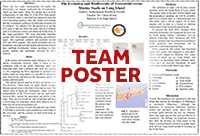 View team poster (PDF/PowerPoint)
Team samples: