Project:
Biodiversity of Lichens in Tenafly, NJ, as Indicators of Air Pollution
Students:

Gabrielle Eimbinder, Yuanning Hui

School:

Tenafly High School, Other

Mentors:

Helen Coyle
Abstract:
8% of our world is covered in lichens, according to a research performed by Dr. Johan Asplund and Dr. David A. Wardle in 2016. Lichens are composite organisms composed of algae and fungi, and they are essential to the environment. Not only are they numerous and thus have a key role in oxygen production, as the Nation Park Service website states, but also are bio-indicators of air pollution. For example, prior research done by S. Munzi, et al. (2013) showed that the lichens species Xanthoria parietina is found to be insensitive to nitrogen after long term exposure to such pollutants. Thus, if we see more species of pollution-tolerating lichens in an area, we can deduce that the location is more heavily polluted. Tenafly is a suburban town in New Jersey, near the Hudson River. This project seeks to investigate the extent to which air pollution affects lichen biodiversity in Tenafly. We will use the sensitivity to air pollution of lichens.
Poster: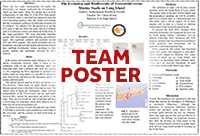 View team poster (PDF/PowerPoint)
Team samples: