Project:
Capturing Airborne eDNA in an Old Growth Forest Fragment in New York City
Students:

Zachary Vetsch, Kailani Gaynor, Stephanie Marino, Alexa Leiva

School:

Hostos-Lincoln Academy,

Mentors:

Allison Granberry
Abstract:
Environmental DNA, or eDNA, is DNA that is shed in air, water, or soil by organisms. Sampling eDNA from a forest is useful because eDNA potentially samples an entire population of plants without directly collecting DNA from each individual. The forest at the New York Botanical Garden (NYBG) is home to 242 extant native species and infraspecies and 165 non–native species. We aim to determine the viability of sequencing plant eDNA from air samples and to compare the number of species found via eDNA sequencing to the list of known species in the NYBG forest.
Poster: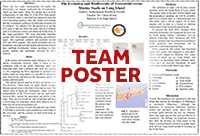 View team poster (PDF/PowerPoint)
Team samples: