Project:
Invasive Plant Species in NYC Streetscapes
Students:

Sonam Tsetso, Salina Magarati, Sara Pandey, Ratchaphum Ritaprom

School:

International HS for Health Sciences, Queens

Mentors:

Jenny Shao
Abstract:
It is believed that plant species that are found near our house streetscapes are all safe but it's not true. People think rural areas are home of invasive species however, urban areas such as New York City are teeming with plant invaders. In this Urban Barcoding Project, we aim to identify and locate the extent of invasive plant species in streetscapes of New York City. These species can threaten the city's biodiversity, resulting in environmental and economic harm. The purpose of our study is to collect random plant samples from neighboring streetscapes with the concept of citizen science. We hope, if we find any invasive species, we will be able to make people alert about it along with reporting about it to the department of Environment conservation.
Poster: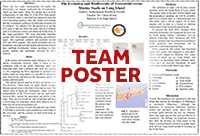 View team poster (PDF/PowerPoint)
Team samples: