Project:
Water quality and its affects on the biodiversity of inhabiting mosses
Students:

Pranav Suresh, Seihyun Lee

School:

Tenafly High School,

Mentors:

Alan Brandstaedter
Abstract:
Using moss that lives on rocks in the water, we are going to analyze how water acidity affects the biodiversity of the surrounding environment. We hypothesize that as the acidity gets closer to a certain point, the biodiversity of moss in the area increases. We are going to pick areas near a water stream, measure the pH level, measure the biodiversity of moss in the area using DNA barcoding, and analyze the results.
Poster: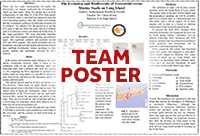 View team poster (PDF/PowerPoint)
Team samples: