Project:
Algae Content in the Ponds of Central Park
Students:

Neil Kush, Michael Dymant, Alma Laufer - Barhad

School:

Dwight School, Manhattan

Mentors:

Michael Paul
Abstract:
The aim of this project is to collect and analyze a variety of algae species from the bodies of water in Central Park. We will find the species of algae present and compare their abilities to absorb carbon dioxide. We will use literature values to determine the relative rates of photosynthesis in the species of algae that we find. We will then be determining how these algae species might impact climate change.
Poster: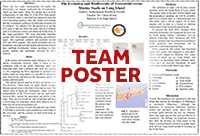 View team poster (PDF/PowerPoint)
Team samples: