Project:
Evil Weevil Retrieval
Students:

Ellie Usdin, Sabine Ballou-Aares

School:

Ethical Culture Fieldston School, The Bronx

Mentors:

Howard Waldman
Abstract:
Acorn weevils are one of the many groups of beetles that live in Van Cortlandt Park. Acorn weevils are unique because acorn weevil larvae develop inside of acorns. For this investigation, we will examine acorn weevil larvae DNA to determine how many species of acorn weevils inhabit Van Cortlandt Park and if they are associated with particular species of oaks.
Poster: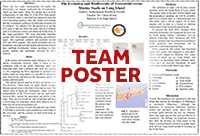 View team poster (PDF/PowerPoint)
Team samples: