Project:
Lichen As A Bioindicator
Students:

Ella Desai, Margot Levy, Emma Arabian, Emma Shulman

School:

The Spence School,

Mentors:

Aruna Chavali
Abstract:
In this Urban Barcoding Project, we aim to investigate lichen to determine the state of environmental pollution and climate change in Central Park compared to the less urban environment of Black Rock Forest. We hypothesize that if lichen species are exposed to greater levels of pollution like they are in Central Park, then the lichens with the traits most beneficial to tolerance of atmospheric pollution will be more prevalent than in an area exposed to less pollution, like Black Rock Forest. We make this assumption because of the fact that lichen obtain all of their nutrients from the surrounding air and rain. We will be using the collection kit provided by the Urban Barcoding project, and our results will be recorded in a table. We will gather the lichen in Central Park and Black Rock Forest because these two areas are heavily populated with lichen.
Poster: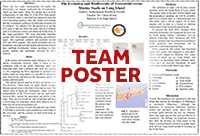 View team poster (PDF/PowerPoint)
Team samples: