Project:
A comparison of moss biodiversity between areas of different atmospheric pollution in Westchester County, NY
Students:

Aine O'Sullivan, Michela Visco, Marley Jennings, Abigail Troup

School:

The Ursuline School, Other

Mentors:

Oxana Litvine
Abstract:
Moss is a nonvascular spore-bearing species which plays an essential role in the environment. Mosses are absorbent and they help regulate water levels and maintain the moisture in the soil. Moss also serves as a bioindicator of air pollution in the atmosphere. Using moss as a bioindicator, we can compare the effect air pollution has on the biodiversity of moss. Our goal is to compare the biodiversity of moss species between areas with high levels of atmospheric pollution and those with low levels of atmospheric pollution. We hypothesize that the area with high levels of atmospheric pollution will contain less moss biodiversity.
Poster: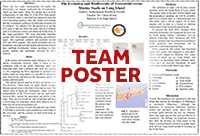 View team poster (PDF/PowerPoint)
Team samples: