Project:
Using DNA Barcoding Assays to Identify Diatoms in New York City Waterways
Students:

Amani Fawaz, Chepeara Curry

Institution:

John Jay College, CUNY, Manhattan

Mentors:

Richard Li
Abstract:
Diatoms have been used in forensic investigations to determine if someone died from drowning. Our aim is to find out the most abundant diatoms at one location of New York City waterways. The results of this study can be potentially helpful in drowning investigations by law enforcement agencies.
Poster: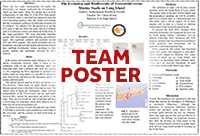 View team poster (PDF/PowerPoint)
Team samples: