Project:
Investigating the fish diversity of the Bronx River
Students:

Lina Liu, Jessica Fong

Institution:

York College/CUNY, Queens

Mentors:

Elizabeth Alter
Abstract:
The major goal of this project is to generate DNA barcodes for all the fish species in the Bronx River (freshwater portion only). In this project, we will use DNA extraction and sequencing to generate genetic barcodes for ~22 species of fishes. By comparing and contrasting the noncoding regions of the sample, we can identify the distinct DNA sequence that specifies certain species in the Bronx River.
Poster: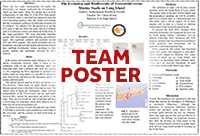 View team poster (PDF/PowerPoint)
Team samples: