Project:
Case Study Exploration of Marine Biodiversity as a Function of Microplastics Pollution
Students:

Spencer Feehan, Natalia Madej

School:

Plainedge High School, Nassau

Mentors:

William Bertolotti
Abstract:
We removed pictures from the abstract to fit the 5MB limit. You can access the full document here: https://docs.google.com/document/d/1HTVZ__2R7ucMN6qSkV62mmbSWD8vF0fX09xTrQI1J98/edit?usp=sharing Our study will survey the biodiversity at 3 locations at Long Beach. We will collect sand and soil samples, quantify and barcode the marine life, and quantify the amount of plastics and microplastics pollution. Using Barcode Long Island, we aim to identify the marine life by site and location and using SPSS, we aim to examine whether plastics and microplastics pollution is correlated with the number of species and number of organisms.
Poster: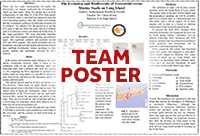 View team poster (PDF/PowerPoint)
Team samples: