Project:
Mosquito Diversity and Distribution in Long Beach, NY
Students:

Molly Hennessy, Samantha Rosenbaum

School:

Long Beach High School, Nassau

Mentors:

Cody Onufrock
Abstract:
What is the diversity of mosquitoes present on Long Beach Island? Is there a geographic variation from North to South of mosquito species? We hypothesize that a north wind will change the distribution and quantity of mosquitoes across the island as the salt marsh mosquitoes are carried by this wind. There has been anecdotal evidence that Asian Tiger(Aedes albopictus) mosquitos are now resident on Long Beach Island.
Poster: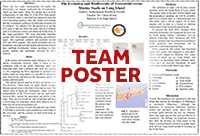 View team poster (PDF/PowerPoint)
Team samples: