Project:
How Varying Species of Mosquitoes React to Different Types of Light
Students:

Connor Hauser, Joseph DeRosa

School:

Connetquot HighSchool, Suffolk

Mentors:

John Halloran
Abstract:
Mosquitoes are becoming a problem throughout the world because of the diseases they carry and the epidemics they spread. To combat this issue on Long Island, BG sentinel mosquito traps will be set up to catch these insects for barcoding. Along with barcoding, the traps will be equipped with LED lights to determine which light attracts the most mosquitoes, and what species of mosquito they attract. The LED lights being used are red, blue, white and a mix of red and blue. Mosquito sample species will be identified and barcoded, and mosquito numbers for each light will be collected in data tables.
Poster: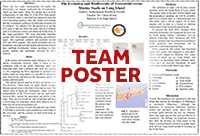 View team poster (PDF/PowerPoint)
Team samples: